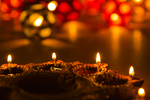 Great Skincare Gifts for Diwali 2022
Diwali, the Festival of Lights, is the most important holiday celebrated in India. The festival gets its name from the row (avali) of clay lamps (deepa) that are placed outside the home to symbolize the inner light that protects us all from spiritual darkness.
This festival is as important to Hindus as the Christmas holiday is to Christians. However, the holiday is not strictly religious, and in the same way Christmas has come to be celebrated by people of all creeds around the world, Diwali has become a national holiday that is also enjoyed by non-Hindu communities. 
Diwali is celebrated over a period of 5 days
Day One: People observe Diwali by cleaning their homes and shop for gold to help welcome good fortune.
Day Two: Homes are decorated with clay lamps and colored sand and flowers are often used to create beautiful rangoli, design patterns, on the floor. 
Day Three: On the main day of the festival, families gather together for a great celebration complete with sweets and lovingly prepared food. It's a beautiful, colorful feast that ends with fireworks or sparklers.
Day Four: This day marks the first day of the new year. Friends and relatives visit each other giving gifts and best wishes for the year ahead.
Day Five: Siblings visit each other and share a luxurious meal.
Diwali 2022
This year Diwali will be celebrated on October 24th by over 2 Billion people worldwide. For many, this holiday is seen as a new year or new beginning. Traditionally, gifts are given on this day and we wanted to share some great options from our line that would make your beauty and skincare-loving friends and family light up with excitement.
The perfect way to begin a new day is with clean, fresh and hydrated skin! This soothing milk cleanser is great at gently removing dirt and grime to leave your skin feeling cleansed and silky smooth. Follow with a great hydrating serum like AVYA's Power Serum with Vitamin C to keep skin healthy, even and glowing. 
This set includes 4 of our most popular products in convenient travel sizes making it perfect for someone who is always traveling or looking to try something new. The products come in a recyclable box with a beautiful decorative sleeve making it the perfect gift for someone you love.
This mask is perfect for anyone dealing with blackheads, breakouts or oily skin.Salicylic acid exfoliates while soothing camphor clears and minimizes pores.