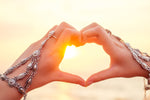 The Perfect Valentine's Day Gifts for the Skincare Lover in Your Life
If your special someone is a self-proclaimed beauty lover then high quality skincare products are definitely welcomed on the list of gifts they'd be happy to receive on Valentine's Day. We decided to make your job a little easier by narrowing down some of our top AVYA gift choices.
This set is packed with intensely hydrating ingredients like snow mushroom, niacinamide, hyaluronic acid, mung lentil seed and green chai. AVYA's proprietary Peptide Complex and Signature Complex add additional support to this collection of ultra-moisturizing products. 
Our Love Your Skin set puts all of AVYA's bestsellers, including our award-winning Nourishing Hand Treatment, in one beautifully wrapped package making it the perfect gift to give to anyone who loves skincare. We use a balance of Ayurvedic botanicals like neem, peony, and turmeric in AVYA's Signature Complex balance potent beneficial ingredients like Vitamin A, Vitamin C, salicylic acid and topical caffeine. 
Anyone who knows skincare knows that sun protection is the most important part of any daytime skincare routine. This sheer tinted moisturizer is lightweight and provides intense hydration without leaving a white cast or greasy residue. The sheer tint is light enough for lighter skin tones and blends perfectly with even the deepest skin tones making it a universal product that works for everyone.
This bestseller is packed with the power of topical caffeine to reduce dark circles & puffiness making it the perfect addition to your morning cup of joe. It's a fan favorite and the perfect pick-me-up to add to your morning skincare routine. Balanced with AVYA's signature blend of Ayurvedic botanicals, this lightweight cream is packed with antioxidants and will leave eyes looking refreshed, giving the entire face an instant, youthful glow.
What would Valentine's Day be without soft, kissable lips? This decadent, nourishing lip scrub and balm combo are full of hydrating ingredients that exfoliate and moisturize even the driest lips. The duo is packed into a cute, travel-friendly component with a mirror making it perfect to put into a small purse or pocket, so your Valentine is always ready for that perfect moment.