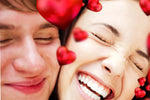 Valentine's Day Skincare Gift Guide
Find the perfect valentine's day gift for you and the people you love
Valentine's Day isn't just a celebration of romantic love, it's also a great time to celebrate anyone you care for. If someone you love is a self-proclaimed beauty lover then high quality skincare products are definitely welcomed on the list of gifts they'd be happy to receive on Valentine's Day. We decided to make your job a little easier by narrowing down some of our top AVYA gift choices.
The Perfect Valentine's Day Gift for Your Significant Other
Finding the perfect gift for that special someone on Valentine's Day can be nerve wracking. Traditional roses, chocolates and stuffed animals are all cute, but can sometimes come off as impersonal.

Luckily, there are options, like skincare products, that can be given as thoughtful gifts that will outlast even the most decadent bouquet. What's more thoughtful than giving the gift of skincare with the intention of promoting self-care in your significant other's daily life?
Our recommendation:
Opt for a combination gift like a heartfelt card + AVYA's Best-selling Nighttime Skincare Set.

Gift Ideas for Your Best Friends
Valentine's Day isn't just about romantic love, it's a day to celebrate all of those special people in your life that make your world a little bit better. In choosing gifts for your best friends you have the likely benefit of knowing what their skin concerns may be.
Our recommendations:
Try a combination like a small box of chocolates with one of AVYA's skincare duos. With options like our One for YOU + EYE, your bestie can try out some of our bestselling products.

A Gift for Mom
Whether it's your mother, aunt, grandmother, or that special mother figure in your life, she deserves to be spoiled and celebrated on this day too. Why not spoil her with the gift of self-care? Giving your mother high quality skincare is a great way to show her you care.
Our recommendation:
Choose products that will help her skin stay radiant and youthful like our Love Your Skin set. Combine this gift with a personal visit or video phone chat, a beautiful handwritten card and some flowers for the perfect, thoughtful touch.

Give Yourself a Valentine's Day gift
There is a saying that "you cannot pour from an empty cup." In other words, you cannot give to others that which you do not have within yourself. In Ayurveda, rituals of self-care are about more than just having a nice complexion, they are about mindfully practicing self love. Valentine's Day is the perfect time to shower yourself with love and to spoil yourself with the gift of skincare. It's okay to get a little extravagant, you deserve it!
Our recommendation:
Choose a set like the Love Your Glow set or our Signature Set, or if you're new to AVYA, our Discovery Set which is full of all the essentials you need for a routine that will produce healthy, glowing skin. Write down five things you love about yourself in a special card and seal it. On Valentine's Day, open your AVYA package and your card for a special reminder of just how wonderful you are.