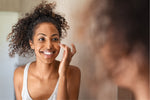 Ageless Beauty: At What Age Should You Start Using Anti-aging Skincare Products?
When should I start using anti-aging products for my skin? It's a question that many of us ask ourselves when we think about our skincare needs. The truth is that the days when anti-aging skincare products were thought to only aid women of a certain age are long behind us. Research is showing that our skin begins to age as early as our 20's and the earlier you implement anti-aging products in your routines, the easier it is to prevent premature wrinkles, fine lines, hyperpigmentation and other skin issues. 
At AVYA, our formulas are created with potent, medical-grade active ingredients and the latest advances in molecular science. We create effective skincare products that are balanced with Ayurvedic botanicals that have been used for centuries to nourish and heal the skin. We want to share a few tips with you about when and how to maintain healthy, youthful skin. 
There is no such thing as "too young" when it comes to anti-aging skincare
Many people get stuck on the term "anti-aging," but the reality is that there really is no age marker for developing a skincare routine that protects skin and keeps it healthy. Genetics play only a small role in terms of skin aging. A larger part of maintaining your youthful appearance has to do with habits like sun exposure, smoking and exposure to other external pollutants, water intake, and daily skincare routines. 
Sun protection
Spending a ton of time in the sun without properly protecting your skin with SPF or other sun protection is a recipe for premature fine lines and wrinkles. UVA and UVB rays can decrease collagen production and increase hyperpigmentation. Signs of damage can include freckles, leathery skin and peeling or itching. Sun damage is cumulative and the risk of skin cancer increases with every sunburn so it's important that sun protection becomes an integral part of your morning skincare routine. 
Daily habits that contribute to skin health
Keeping your skin healthy is important if your long term goal is to keep it looking youthful. When we're in our teens and early 20's, we don't usually think about how things will impact our health later on, but developing consistent healthy habits can make a world of difference.
Diet
A healthy diet rich in nutrients like Vitamin A, Vitamin C and Vitamin E are great for keeping skin youthful. These vitamins support collagen production which helps with firmness and prevents wrinkles. 
Hydration
Staying hydrated and drinking enough water daily helps your body filter out toxins that can impact skin health. 
Skincare Routine
Developing a daily skincare routine early on pays off. Getting yourself in the habit of caring for your skin consistently can have major benefits both outwardly and inwardly. Turn your routine into a daily ritual of relaxation. 
Cleanse 
Try using a gentle cleanser like our non-foaming Gentle Cleanser to rinse off dirt and oils that can potentially clog pores and lead to breakouts. 
Nourish
Serums are great for adding beneficial nutrients to your skincare regimen. 
AVYA's brand new Hydroveda Serum is packed with ingredients like niacinamide and mung lentil seed extract to improve the skin's barrier and lock in moisture.
Hydrate
Keeping skin moisturized is an important part of preventing wrinkles and fine lines. AVYA's Hydroveda Moisturizer contains hyaluronic acid to lock in moisture and is balanced with nutrient-packed Ayurvedic botanicals like snow mushroom and our signature blend of peony, neem, and turmeric to heal and add a layer protection. 
Protect
Your morning routine should always include SPF. Try AVYA's Hydroveda Sheer Tinted Moisturizer with SPF 40. This lightweight moisturizer keeps your skin hydrated while providing broad spectrum protection from UV rays and blue light. Formulated with a powerful blend antioxidant-rich green chai extract and Vitamin C, this moisturizer combats skin damage with each application. The sheer tint is perfect for every skin tone
As always, we like to remind you that true beauty comes from self-love, self-care and the love and joy you radiate from within to others. Your true beauty is ageless.