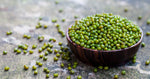 The Benefits of Mung Lentil Seed in Your Skincare 
An explanation of what Mung Lentil Seed is, what it does for your skin, and whether it's right for your personal skincare regimen
Mung Lentil Seed has long been used in India for its many dietary health and skincare benefits. A native crop to India, this small, green bean is part of the legume family and is often used throughout Southern and Eastern parts of Asia to create dishes that range from sweet cakes to savory noodles. In Ayurveda, it is also commonly used in face masks and other facial treatments because it's packed with phytonutrients and rich in antioxidants. 
At AVYA we use high quality, ancient Ayurvedic botanicals that contain high levels of nutrients that nourish the skin to balance the high quality medical-grade actives we use in our formulations. We've incorporated Mung Lentil Seed into the formula for our newest serum. 
AVYA's Hydroveda Serum with Niacinamide is balanced with Mung Lentil Seed Extract. This gentle, yet powerful balance of ingredients is formulated to give your skin the hydration it needs while also toning and brightening your complexion. We wanted to share more with you about this wonderful Ayurvedic ingredient and why we've chosen to incorporate it into our brand new line.
What Does Mung Lentil Seed Do For Your Skin?
Mung Lentil Seed has been used for healing skin issues in India for centuries. This extract has proven restorative properties and is especially soothing for acne-inflamed skin. It also has detoxing properties that help remove impurities. 
Antioxidants are important for keeping skin healthy, supple, and glowing. Mung Lentil Seed contains high levels of antioxidants that combat free radicals, UV rays and other environmental stressors that are known to damage and prematurely age skin making it perfect for any skincare regimen.
Is Mung Lentil See Right for Your Skincare Regimen?
If you're looking for a product that can brighten hyperpigmentation while also boosting skin hydration, you may want to pick up a serum or cream with Mung Lentil Seed. Rich in B vitamins, Vitamin A and Vitamin C, and antioxidants, this ingredient is a powerhouse when it comes to boosting your skin's ability to retain moisture and regenerate new cells which helps clear dark spots and avoid premature signs of aging that come from sun exposure and other environmental stressors like pollution.