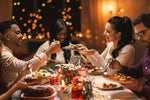 Ayurvedic Christmas Recipes
Two Ayurvedic dessert recipes that your guests will love this holiday season
The holiday season begins in November and lasts through December. It's a time that's filled with celebrations, lots of excitement and tons of rich, decadent foods and desserts. While it's perfectly fine to indulge in the foods you love, Ayurveda teaches us that everything in life must be balanced. This is a great rule of thumb to apply to our diets as well. 
Eating an Ayurvedic diet makes you feel nourished and energized. Ayurveda emphasizes the inclusion of Whole foods into your diet over processed foods. Because unprocessed foods like vegetables and whole grains contain necessary nutrients and fiber, you will eat less while feeling more satisfied and you will also heal and maintain your gut, which is central to keeping your immune system healthy and allowing your body and brain to function at its best. Since Ayurveda believes all disease begins in the digestive tract, food is your first medicine. 
We decided to share a couple tasty Ayurvedic dessert recipes that will allow you to indulge and still maintain balance during the holiday season.
Peppermint Chocolate Shake
 This naturally-sweetened, dairy-free recipe will satisfy everyone's sweet tooth while also strengthening the immune system. We can't think of anything better to try for festive events and kids will also love this treat. 
Skill Level: Easy
ALMOND MILK: ¾ cup
BANANA: ½ cup
CARDAMOM: ¼ tsp
CHOCOLATE (CACAO): 1 tbsp
DATES (DRIED): 2 whole
MINT: ¼ tsp
Prep: 
Chop dates, 1 whole banana, and combine with almond milk, cardamom, peppermint leaves, and cacao in a blender. Blend until smooth.
Serve room temperature. For added flair, garnish with crushed candy cane.
Maple Cream Walnut Cookies
 These delicious cookies are filled with ingredients containing healthy fats and protein while also being gluten-free.  The aromatic herbs like cinnamon and nutmeg included in this recipe help stimulate digestion and decrease inflammation.
Skill Level: Easy
ALMONDS: 2 cups
APPLE CIDER VINEGAR: ½ tsp
CINNAMON: 2 tsp
COCONUT OIL: 1 tsp
CONFECTIONERS SUGAR: ½ cup
EGG WHITES: 2 eggs
MAPLE SYRUP: ¼ cup
NUTMEG: ½ tsp
RAW SUGAR: ¼ cup
SALT (MINERAL SALT): 1 pinch
TAHINI: ⅓ cup
VANILLA EXTRACT: ½ tsp
WALNUTS: ¾ cup
Prep:
Cookies
Preheat oven to 325 degrees. Line 2 cookie sheets with foil. Grease with coconut oil. 
You can use store-bought almond powder. If you choose to make your own almond powder: 
Grind almonds in a coffee grinder or food processor until they become a fine powder. Don't overdo it, or it will become almond butter. 
Mix almond paste and granulated sugar until smooth. Add confectioners' sugar and 2 egg whites; again, mix until smooth. This works great with a food processor. If mixing by hand, be very thorough. 
Coarsely chop walnuts and mix them into the dough. 
With lightly floured hands roll dough into 1 inch balls. Arrange balls on cookie sheets, and flatten slightly to form a 1 1/2 inch round. 
Bake 15 to 18 minutes in the preheated oven, or until lightly browned. Let stand on cookie sheet 1 minute. Transfer to wire rack to cool. 
Maple Tahini Icing
Place the maple syrup in a small saucepan; cook over low heat for about 3 minutes. Then, turn off heat and mix in the tahini, vanilla, and salt. 
Mix vigorously until it's very smooth.
You  can drizzle the icing over the cookies or partially dip the cookies into the icing. Finish off the cookies by sprinkling some crushed walnuts on top while the icing is still fresh.