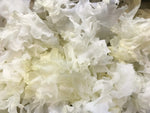 Let it Snow, Let it Snow, Let it Snow Mushroom: The Benefits of One of Skincare's Best Kept Secret Ingredients
Learn about the benefits of snow mushrooms in skincare and which products to look for
Everyone is always looking for the next big thing in skincare - the newest ingredient that will help take their skin to the next level. While there are always new technologies being created, there are also some tried and true botanicals that are very deserving of the proverbial spotlight when it comes to their ability to heal and nourish skin. Snow Mushrooms have been used in Asian and Eastern Asian medicine for thousands of years, but only began to really have their "moment" in recent years. The Zoe Report raved about their benefits in 2018 and since then, brands have begun incorporating these magical little fungi into an array of different products. 
At AVYA, we care about creating products that leave skin rejuvenated and healthy. We source only the best botanicals like neem, peony, turmeric, beet root, goji berries and a host of others to balance the potent medical-grade actives that produce radiant, glowing skin. We've incorporated snow mushrooms into our Eye Bright Cream and into our brand new AVYA Hydroveda Moisturizer and we'd like to share a few of the reasons why this particular ingredient is so beneficial to your skincare regimen. 
Healing Benefits of Snow Mushrooms
Snow mushrooms are scientifically known as Tremella Fuciformis. These mushrooms are used in ayurveda to treat wounds, especially burn wounds, because they stimulate cell growth. They are often ground into a past and applied topically to the wound. Since snow mushrooms have also been found to inhibit melanin production, they are great for lightening scars, brightening the complexion and preventing hyperpigmentation. 
Anti-Aging Benefits of Snow Mushrooms
One of the most beneficial aspects of snow mushrooms is their ability to lock in moisture. They are comparable to medical ingredients like hyaluronic acid and can increase blood flow, preventing degeneration of vessels under the skin that lead to dark circles. Snow mushrooms also promote skin elasticity which helps decrease the formation of fine lines and wrinkles. Another attribute of this wonder ingredient is in the snow mushroom's consistency when incorporated into skincare products which aids in creating a microscopic layer that allows product to adhere and penetrate the skin. 
Snow Mushrooms are Full of Antioxidants
Antioxidants are critical to our overall health and especially important in maintaining youthful, healthy skin. Antioxidants defend our skin against free radicals which are unstable molecules in the atmosphere that can cause major damage in the structures of our cells including proteins, lipids and DNA. According to Healthline, antioxidants neutralize the free radicals to minimize the damage they can cause to our organs and with the skin being our largest organ, it's highly important to include products in your skincare regimen that combat these destructive free radicals. Snow Mushrooms contain high levels of Vitamin D, a well-known membrane antioxidant. When applied consistently, they improve texture, hydration, and overall brightness of the skin. 
Adding snow mushrooms to your skincare regimen is a great way to incorporate powerful antioxidants and ultimate hydration into your daily routine.