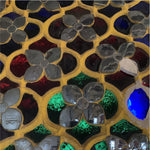 Best Gift Ideas for Mother's Day
Tips for how to choose great skincare gifts for the mothers in your life
Whether it's your mother, grandmother, sister, best friend, or even your favorite colleague, chances are many of the women in your life appreciate self-care and great skincare. This Mother's Day, think about incorporating some high-quality skincare products into gifts for amazing mothers and mother-figures in your life. 
At AVYA we create products that are inspired by our knowledge of the benefits of Ayurveda and perfected by our experience in the field of medicine and skincare science. We believe that great skin is achievable for all and that Ayurvedic practices are a great way to learn more about how to achieve health and an inner glow that radiates outward. We want to share some great ideas for Mother's Day that will last long after the chocolates have been eaten and the flowers have wilted.
The gift of skincare is the gift of self-care 
Moms are some of the most important people in our lives. Chances are you know a mom who somehow balances everything from work and school, to soccer practices, play dates, and everything in between. With so much going on, it's no surprise that many mothers forget to take time out to relax. 
A great daily skincare routine is important for keeping our skin healthy and youthful, but as the new InBeauty trend suggests, those few minutes you take for your skincare routine are also a great time to reconnect with self. The gift of a set that incorporates all of the necessities for a daily routine is a great way to take the guesswork out of building a personal skincare routine. Try AVYA's Signature Set, which contains five of our luxuriously indulgent best-sellers packed with powerful actives and ancient Ayurvedic botanicals gentle enough for everyday use that will leave skin radiant, hydrated and healthy. 
Skincare is a gift that lasts
The best Mother's Day gifts are the ones that last long after the day has ended. Taking the time to visit or call your mother is always a great idea. Creating memories that will last is by far the most valuable gift you can give to any loved one. 
Among other great gifts that have long lasting power are great skincare products. A high-quality serum or moisturizer used consistently can improve the skin's appearance over time while preventing and diminishing signs of aging. Mothers of all ages can benefit from a great skincare regimen that combines preventive and corrective ingredients. Try AVYA's Bestselling Nighttime Skincare Set that combines healing antioxidants like retinol and Vitamin C to produce visible results and prevents hyperpigmentation, fines lines and wrinkles that can be caused by environmental stressors like UV rays and pollution. 
Try AVYA's Travel Set with Cosmetic Bag if you're unsure which products will work best. This set contains 4 of our stand out products all packaged in a reusable cosmetic bag that's perfect for a busy mom who's always on-the-go.