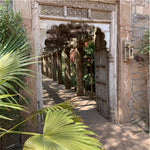 Mother Earth & Ayurveda: 3 Ayurvedic Ways to Celebrate Earth Day
A short history of Earth Day and 3 ways to incorporate Ayurveda into the holiday
With Mother's Day coming up in the month ahead, it's a great time to reflect on this planet, aptly referred to as Mother Earth, which we are all lucky enough to call home. Earth Day is a holiday that we celebrate every year. This yearly celebration first began in 1970 as a day of peaceful, student-lead demonstrations following a tragic oil spill that killed thousands of species of wild animals and destroyed precious natural habitats off the coast of Santa Barbara, California on January 28th, 1969. Earth Day has evolved into a day to reflect on the state of our planet and to promote hope for the world's future generations. 
At AVYA we combine the power of Ayurvedic science with the most advanced skincare technology to produce products that are deeply nourishing and leave you with radiant, healthy skin. Our experience in the science of Ayurveda teaches us everything we need to live healthy successful lives is given to us by nature. We believe strongly in the importance of protecting our planet and our customers which is why we create products that are free Parabens, Sulfates, Phthalates, Artificial Colors, and other fillers and toxins. 
Ayurveda promotes a connection with and appreciation for nature so we want to share a few ways you can include Ayurveda in your Earth Day celebrations.
Be Mindful of Your Inner World
Ayurveda teaches us that our inner world reflects our outer world and vice versa. You can honor your physical inner world on Earth Day and every day by making healthy choices in your diet. Eating a diet rich in fruits, vegetables, nuts and other healthy foods will help create a healthy environment within your body which becomes a foundation for a healthy, positive and more radiant self. 
InBeauty is a trend that combines ancient Ayurvedic rituals in skincare. For centuries, Indian women have recognized the power of self-care and have mastered the technique of incorporating mindfulness into their everyday beauty routines. By doing this, they turn a simple five-minute beauty ritual, like washing their face and applying moisturizer, into a luxurious session of self-indulgence which everyone deserves. 
Take a few minutes to meditate outside 
Meditation is a great tool for connecting with both our world and your inner world. A great mediation to celebrate Earth Day would be to focus on your gratitude for nature and all that it provides. If the weather permits, sit quietly outdoors and focus on the sounds you hear - birds chirping or the sounds of wind blowing through the trees. Focus on feeling the sun as it touches your skin and the smell of fresh air. Take time to really acknowledge how good these simple things make you feel. 
As always, if you're spending time outside in the sun, make sure you're using sun protection. Try AVYA's Day Moisturizer to keep your skin hydrated while adding an extra layer of protection from skin-damaging UV rays. 
Incorporate Grounding into your routine during warmer months
For a great deal of us, walking barefoot outdoors isn't an everyday practice. However, for over a decade, scientists have been studying the benefits of a practice called "Earthing" which refers to the therapeutic act of reconnecting with the natural electrical charges of the earth. 
Recent research suggests that this practice can yield improvements in cardiovascular health and pain management. 
Different types of grounding include walking barefoot or lying outdoors on natural ground,  floating in a body of water like a lake or in the ocean, or using grounding equipment like
grounding mats
,
grounding sheets
,
grounding socks
, or
grounding patches
.