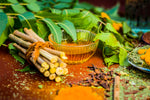 Neem: The Skincare Ingredient You Never Knew You Needed
Learn about the benefits of neem as a skincare and haircare ingredient
For centuries, neem has been used for its medicinal properties by people in India. Acclaimed for its antiseptic, antibacterial and anti-inflammatory properties, it's great for everything from balancing oily skin and fighting acne to healing hyperpigmentation and improving the effects of sun damage. 
Neem is loaded with Vitamin C
Neem, formally known as azadirachta indica, is a tree in the mahogany family that is native to India and most countries in Africa. Everything from the tree bark to its leaves can be used to make oil and paste that can be used topically for a variety of skin issues.
Vitamin C is a potent antioxidant and neem is full of this skin-saving nutrient. Antioxidants are particularly beneficial for diminishing the effects of damage caused by sun exposure and free radicals. Vitamin C also helps boost the skin's production of collagen which improves elasticity, strengthens the skin barrier and reduces wrinkles and fine lines. 
Neem increases moisture retention
Neem is particularly effective for oily and acne prone skin because of its capacity to retain moisture. It contains essential fatty acids that penetrate the skin easily allowing it to heal and nourish skin deeply. Most people think that oily skin requires less moisture, but that is actually far from the truth in many cases. Excess oil and sebum is often produced as the body's response to dehydration. It's absolutely essential to choose the right cleanser and moisturizer for your skin especially if you experience excessive oil. 
Neem has antiseptic and antibacterial properties
Neem's properties are helpful in treating and preventing acne breakouts and post-breakout hyperpigmentation. It's also used to heal wounds and is particularly great at improving the look of scars. Products containing neem are a great addition to any skincare routine.