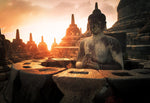 The Best Anti-aging Secret Under the Sun
Summer Skincare Tips to Avoid Sun Damage 
With summer in full swing, sun protection is on the top of everyone's skincare list. Year-round sun protection is necessary to avoid premature signs of aging and hyperpigmentation that can appear as a sign of sun damage from UV Rays and UVB Radiation. However, with increased outdoor activities, we become more susceptible to these skin issues during the warmer months of the year. 
Sun damage can have a major impact on skin, both seen and unseen. Not all damage is visible. Some of the most severe damage can only be seen with UV photography. However, dermatologists are trained to pick up on subtle changes in skin and to see warning signs of sun damage ranging from wrinkles and fine lines to skin cancer. 
There are multiple methods and products out here that help to protect your skin from the sun, so how do you choose what works for you? We've made a list to help you out:
Know your sunburn risk
Sunburns are not only painful, but your risk of skin cancer increases with every sun burn you get. While people of every skin tone are susceptible to sun burns, people with more melanin or darker skin tones are less likely to burn as quickly as those with less melanin. This doesn't mean you don't need to wear sunscreen if you have dark skin. Protection should be applied daily as part of your skin regimen regardless of your melanin level and regardless of the level sun. 
Wear Protective Accessories
Accessories like hats and sunglasses can be a fun and stylish way to keep your face protected from the sun's rays. A wide-brimmed hat can instantly make any outfit feel more chic and provide much needed shade to your scalp, forehead, and the tops of your ears. Those areas are often forgotten when it comes to applying protection and are also where many skin cancers develop. 
The ideal sunglasses cover the skin around your eyes and have polarized lenses with UV filters. Choose shades that have regular lenses as opposed to mirrored lenses which look great, but can bounce UV light onto your cheeks. 
Layer up on SPF
The easiest way to ensure you're getting the best amount of sun protection in your skincare regiment is to make sure each step contains product that has protective ingredients. At minimum, you want to use products with Zinc Oxide or some other sun protectant to avoid excessive need for reapplication.  
Carry your sun protection with you on-the-go
Tossing a sun protection product into all of your bags or your vehicle's glove box is a great way to make sure you're never stuck without UV protection and you can reapply protection as needed. According to Vogue.com, reapplying every two hours and after a swim or excessive sweating is necessary for maximum protection. 
AVYA Skincare combines ancient ayurvedics with some of the most innovative skincare technology to bring you products that penetrate deep within to give you healed, healthy and radiant skin. Our brand new Hydroveda Sheer Tinted Moisturizer with SPF 40 contains our signature blend of ancient botanical extracts:
Used in India for centuries, Neem reduces redness and inflammation and relieves dry or itchy skin. This intensely hydrating ingredient is an effective emollient that aids in the infusion and retention of moisture. Turmeric is a member of the ginger family derived from plants indigenous to India. It has properties that protect and heal UV damage and is also an antibacterial.  
Peony is a potent anti-inflammatory and antioxidant with properties that fight against free radical damage and slow signs of aging. Peonies contain paeonol, a compound that increases skin's natural defense mechanisms and aids in cell regeneration, leading to more toned and firmer skin.
To seal the deal and prevent sun damage, we've included Zinc Oxide and antioxidant-rich ingredients like Vitamin C, green chai, and apple extract to combat free radicals that can increase signs of premature aging like fine lines and wrinkles. Hyaluronic acid locks in moisture. Our balanced, lightweight formula is easy to reapply throughout the day without feeling oily or heavy and provides a strong layer of protection with a silky smooth application that will leave your skin moisturized and prepped for any time outdoors.