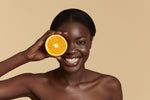 Topical Vitamins: What Do They Do for Your Skin and Are They Really Worth the Hype?
Most of us have been taught that taking a multivitamin every day is necessary. Whether you were a Flintstone kid or not, the truth is that the average person doesn't really absorb enough of the vitamins crucial to our overall health. And while this can have many implications for overall health, we're here to talk about the effects of vitamins on skin.
Your skin is the largest organ in your body and requires optimal hydration and vitamins to stay in top shape. We've all heard the old adage, "You are what you eat." But, what happens when you're still not getting enough vitamins despite eating your veggies and taking your vitamins? That's where vitamin-infused skincare products save the day. 
What vitamins are important for healthy skin?
Different vitamins and nutrients play a major role in maintaining healthy skin. We need a combination of healthy fats, like omega-3's, and proteins to keep skin cells strong. Vitamins needed for healthy skin include Vitamins A, B3 and B5, C, D, E, and K. These Vitamins all have roles in protecting skin, maintaining the skin barrier, fighting antioxidants, retaining moisture, boosting collagen production and combating cell deterioration. 
Do topical vitamins really work?
The short answer is: YES. Topical vitamins that you can find in serums, creams, lotions, essences, toners, and other skin care products actually do help distribute some vitamins into the outer layers of your skin and can have real visible effects on your skin's health. Using products containing topical vitamins can help reduce signs of aging like hyperpigmentation or fine lines and wrinkles They can also help improve skin texture and tone, reduce the effects of sun damage by strengthening skin cell barriers against oxidation caused by UV rays, and increase the skin's ability to heal by increasing and improving collagen and elastin production. 
Which topical vitamins should I use in my skincare routine?
Figuring out which topical vitamins to use for your specific skincare concerns can be confusing so we wanted to break down a few of our favorite topical vitamins for addressing common skin issues that we all struggle with at some point.
Vitamin A
You may see this extremely powerful exfoliating antioxidant referred to as one of its derivatives, retinol or retinoid, but Vitamin A is a true game changer when it comes to its ability to brighten, retexture, and prevent and reduce signs of aging. Look for products containing Vitamin A or retinol if you have issues with hyperpigmentation, scarring or if you're starting to see fine lines. Only use products containing Vitamin A and its derivatives at night and always follow up with sunscreen the next day as Vitamin A makes your skin sensitive to sunlight. 
Vitamin B
Vitamin B is the ultimate when it comes to locking in moisture so if you experience extreme dryness, this is an ingredient you want to include in your daily routine. We find derivatives of this vitamin often referred to as niacinamide. It's also a great dupe for hyaluronic acid that is safe to use for people with extremely sensitive skin. Look for creams or serums containing niacinamide. 
Vitamin C
Vitamin C is used for brightening complexion, combating hyperpigmentation, boosting collagen production and fighting free radicals that cause skin damage. This antioxidant powerhouse is a daily routine must-have for every skin tone and skin type. However, Vitamin C's potency can sometimes come with side effects, so you want to make sure you choose a product that balances this ingredient with others that counteract side effects. Look for Vitamin C products that include soothing botanicals and pair it with other vitamins like B and E to avoid sensitivity issue. Always do a skin test on your arm before applying products to your face to see how your skin reacts. 
Vitamin D
One of the most important vitamins to include in your diet and skincare regimen is Vitamin D. This is because Vitamin D supports the fundamental structure and health of your skin. It has antioxidant properties that help combat environmental stressors that lead to cellular stress which can cause loss of elasticity and a decline in collagen. Without it, your skin can begin to sag, form wrinkles and appear less toned. This vitamin is crucial for calcium absorption and aids in cell turnover and repair. If you're experiencing inflammatory skin issues like acne, psoriasis, or eczema, make sure Vitamin D is part of your routine both internally and topically. 
Vitamin E
Vitamin E is an age-old, tried and true ingredient in skincare that probably doesn't get the hype it deserves anymore because it's been a staple for as long as most of us can remember. It's easily absorbed into the skin making it particularly suited for topical skincare and it's antioxidant properties make it great for treat skin issues like scars, burns, and acne. Vitamin E is also a common treatment for sun damage. This workhorse of a vitamin is known to hydrate, heal, protect and strengthen the skin's barrier making it a necessary ingredient in everyone's skincare routine.
Vitamin K
Healthy collagen production helps maintain youthful skin that appears more plump and smooth. Vitamin K protects the collagen production in your body allowing skin to maintain elasticity which reduces wrinkles and fine lines. It increases healing time and is also great for fighting dark circles under the eye and bruising anywhere on the body. While you should be consuming this ingredient internally, it's also a great topical vitamin to include in your skincare routine.